9 Lessons from a Legendary Executive Assistant and CEO Partnership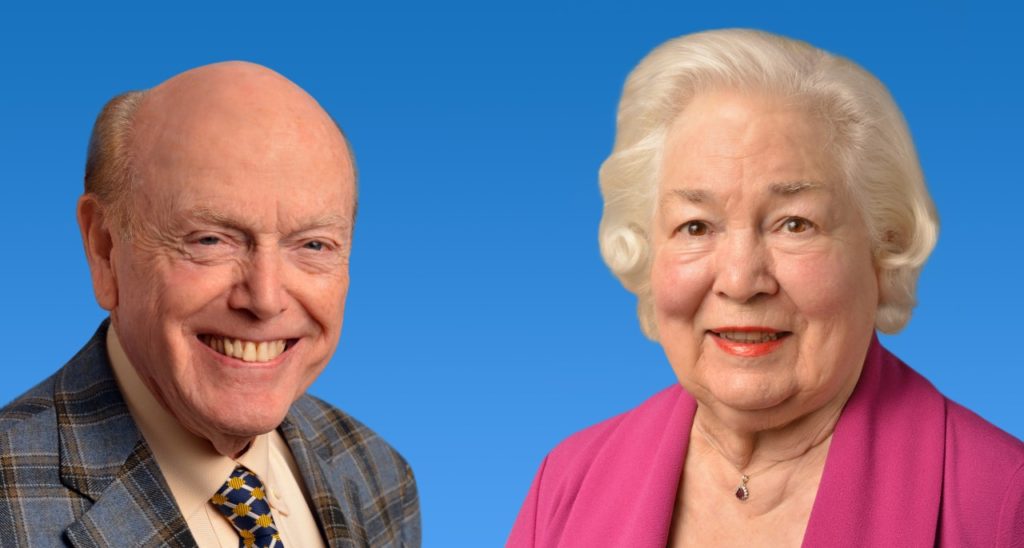 Jim Pattison and Maureen Chant: Courtesy of Maureen Chant
In April of 2017, my friend and fellow YPO member, Norm Smookler, interviewed Maureen Chant, the executive assistant to Canadian business Icon and YPOer, Jim Pattison. I was struck by the authentic responses Maureen gave to Norm and all of them rang true for me.
Norm suggested we go back to Maureen and get some further insights from her for an article, and we jumped at the opportunity. Maureen immediately responded and we are so grateful she did, and that Norm so graciously opened that door for us.
I have been blessed to work with an exceptional executive assistant, Jackie Ludwig, who is now my co-founder in a new venture. We have created the first professional membership community for EAs dedicated to the CEO-EA partnership – LUMINI. We dove into this challenge because we have experienced the results that great CEO and EA pairings can accomplish.
We believe every CEO and EA can have the type of successful relationship Jim and Maureen have enjoyed, and that Jackie and I have shared.
Jim and Maureen have obviously perfected their CEO and EA partnership over 58 years. I am guessing this is a record. We posed 9 questions to Maureen that we most often hear, and the answers are 100% her words:
1: What are the three most important skills in your toolbox that have made you successful?

·      Being a good listener
·      Paying attention to detail
·      Honoring confidentiality
2: How do you and Jim stay hyper-connected in your communication? Phone, text, email, or in-person or all of these?
·      Jimmy and I meet together personally several times a day and if we are separated, we communicate by telephone or email. That is because of our age. If we were younger, we would likely do a lot of our communications by text.
3: How do you tactfully deal with all the requests of your time and do you have a diplomatic way to say no?
·      I always try to respond to each and every request as quickly and honestly as possible.
·      I truly believe that there is no better way to do business than be absolutely honest.
·      If I need to respond in a negative, I would just say no in as diplomatic a fashion as possible.
4: You have planned for every contingency for an event or project and inevitably something goes wrong. How do you manage this?
·      I have had lots of upsets in my working life on projects and events and handle each situation on its own by making the next best choice for a resolution to a situation.
·      Jimmy also has made lots of mistakes and had lots of failures and he would pretty well do things the same as me.
5: Did you and Jim mutually agree on boundaries and what were they?
·      Not sure what you mean by boundaries, but in our work life, there are no boundaries.
6: Can you describe how you dealt with trust and confidentiality?
·      I have worked for Jimmy for 58 years and it definitely took time for me to earn his trust.
·      I have always been a confidential person.
·      My family calls me "the vault".
7: We often hear that the role of an Executive Assistant, like that of the CEO, is lonely. Was that the case for you and, if it was, how did you deal with that?
·      My role has never been a lonely one, but I have often had to forego allowing relationships to become too familiar, as people sometimes try to obtain information that isn't theirs to have.

8: What advice would you give young Maureen starting in this position years ago?

·      Be prepared to often sacrifice your personal time and to learn everything you can about the position and give 110% to the new opportunity.

9: What else would you like to add about your experience in this role?

·      I have had the best job in the world, in my opinion, and would not change one minute of the last 58 years. In fact, I would like to be able to turn the clock back 30 years and start all over again.
Our thesis at LUMINI is that the world of the CEO gets better when you fully leverage your EA and when your EA gets even better at working with you. We also know that today's CEO is "Always on", 24/7. Our research and that of the world's top consultancies show that today's CEOs are faced with leading through constant disruption and uncertainty:
•      Digital transformation
•      Cyber/data security threats
•      Talent challenges
•      Changing workplace
•      Employee morale
•      Sustainability challenges
•      Continuous stakeholder demands from all angles
•      No down time and seldom "off"
Our research has also found that CEOs are depending more on their EAs to be an executive level partner.
•      The EA is the one person who can best help CEOs manage through disruption.
•      The EA has evolved from being a nice-to-have luxury to mission-critical.
•      The EA role has expanded beyond administration – EAs represent their CEOs and impact their effectiveness.
•      The CEO needs a partner who can keep pace with him/her and the increasing demands on their life.
This reliance has created similar hyper-challenges for the EA. Jackie Ludwig, and I had the good fortune to be trained on how to work together by the now retired guru in this field, Christina Randle. Christina literally locked the two of us down for 4 days and taught us her process of effectively unlocking the secrets of working together. It was confronting, it was tough, and it stuck. What we discovered was:
•       CEOs are not trained on how to work best with an EA.
•      The EA's plate is overflowing trying to keep pace with their CEO and his/her demands.
•      The EA is often not getting enough CEO time to keep things moving forward.
•      There is no professional development for the EA to help navigate and grow with challenges.
•      There is no peer group for the EA to problem solve with or for best practice sharing.
Our experience was that by maximizing all aspects of our partnership, we created greater productivity, effectiveness, and happiness. We did this by connecting daily, doing a weekly recharge meeting together, improving our workflows, streamlining our communication, and keeping focus on what mattered most. This change in our behaviors was incredibly energizing. Co-workers saw it, customers saw it and it became infectious. We were also having fun.
The Result:
•      A Happier CEO
•      Tighter working relationship
•      Better job satisfaction
•      Professional growth and development
•      Created opportunities to expand the EA role.
LUMINI is here to help CEOs and their EAs become more effective together. Our guided program, methodologies and EA peer group community can make a remarkable difference for the two of you. Let us show you how. Please reach out to me, Sean Magennis, Chairman of Lumini, at [email protected].
A huge thank you to Maureen for providing her lessons from 58 years of supporting and partnering with Jim.
Maureen Chant has been with the Jim Pattison Group since 1963 as Jim's Executive Assistant and Advisor. The Jim Pattison Group is ranked the 41st largest company over all in Canada and the 10th largest private company in Canada. The company has over 51,000 employees, $12.7 Billion in annual sales and operates in over 565 locations worldwide.